Only the Alamo Drafthouse can take all the fear out of Karaoke and keep all the boozy, sing-along fun while putting it all up on a huge movie screen!
It's called community, baby. And it's happening soon, with local talent to boot.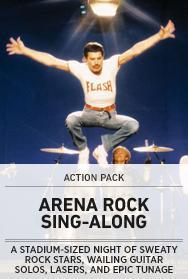 Any band can play a small room. Hell, you can rock the Westport Coffeeshop with an acoustic guitar and a set of bongos (though I'm not sure why in God's name you'd want to).
But when your band gets booked in a sports stadium? Then you need to be ready to get the people alllllll the way in the back amped up, on their feet, and screaming out loud!
ARE YOU READY TO ROCK? (It's not a question, baby.)
Three-time Kansas City air guitar champion Eric "Mean" Melin (that's me) will host The Action Pack's Arena Rock Sing-Along at the Alamo Drafthouse Kansas City Mainstreet Theater on Thursday night August 30 at 7:30pm!
Arena Rock Sing-Along goes to go beyond the power ballads that force your lighter hand in the air (though we'll have some of them, too). These are the songs that were written to be sung out at the top of your lungs with 15,000 of your closest friends while sweaty dudes (and a few dudettes) wail on their guitars with explosions, lasers, and fog machines going off all around them. Van Halen, Queen, U2, Bon Jovi, Guns 'n Roses, Springsteen, AC/DC… for those about to rock, we salute you.
For those not about to rock, we recommend you start preparing yourself now. Because we will rock you.
Before the show, you'll be treated to a competition/exhibition of Kansas City's best air guitar talent, as the area's best give one minute each of their hottest licks and most face-melting moves to get you warmed up for the Arena Rock Sing-Along!
All the Alamo Drafthouse events have been selling out, so go here and get your tickets early.
You can RSVP on Facebook too, but you still have to BUY TIX.