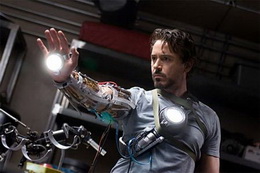 The American Film Institute has named its top 10 American films of 2008, and there are some pretty big surprises. "The Dark Knight" and "Wall-E" are the two awards-bound mainsteam hits of this year, so its no surprise to see them, but the inclusion of "Iron Man" is a bit of a shocker. Then again, this is the same list that included "Knocked Up," which every other awards group pretty much ignored, just because it was a comedy.
"Slumdog Millionaire" doesn't make the list because its a foreign production, but "Doubt," "Revolutionary Road," "Vicky Christina Barcelona," and "The Reader," who all just scored big in the Golden Globe nominations last week, are conspicuously absent.
I would like to have seen "The Visitor" on this list, but I'm not going to complain at all because Darren Aronofsky's "The Wrestler" made the cut. So many people this year have singled out Mickey Rourke's transormational performance in this movie, but no one seems to also be willing to admit what a work of art the picture itself is. Rourke anchors the entire film, appearing in virtually every scene, but Aronofsky's neo-realistic approach puts you right n the middle of his character's dilemma.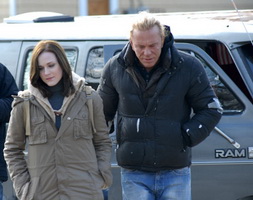 Anyway, it's great to see "The Wrestler" getting some acknowledgement. Now let's get some people talking about Aronofsky for best director.
"Milk" roars back from its virtual Globes shutout (Sean Penn was the only nomination that scored), and indie darlings "Frozen River" and "Wendy and Lucy" came straight out of left field! (And you all thought I was crazy when I mentioned that Melissa Leo not getting a Globe nom was a snub. Told 'ya!) It will be interesting to see if this does anything for Michelle Williams' (from "Wendy and Lucy") chances at Oscar? How weird would that be if she and ex Heath Ledger were both nominated?
(Also, don't forget my continuously updated Awards Tally 2008, where I'm adding up all the awards and nominations of every movie leading up to the 81st Academy Awards. The AFI list is already in there!)
Here's the AFI list, in alphabetical order:
"The Curious Case of Benjamin Button"
"The Dark Knight"
"Frost/Nixon"
"Frozen River"
"Gran Torino"
"Iron Man"
"Milk"
"Wall-E"
"Wendy and Lucy"
"The Wrestler"