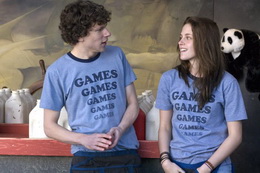 There are times when being both a movie critic and a musician come together, and this is one of those times.
My love for the Greg Mottola's "Adventureland" (bound for my Top Movies of 2008 list for sure) has manifested itself in a Halloween night rock show. As a tribute to the movie and its awesome soundtrack, The Dead Girls (under the name ADVENTUREBAND) will be performing 13 songs from the movie on Saturday, Oct. 31 at the Replay Lounge in Lawrence.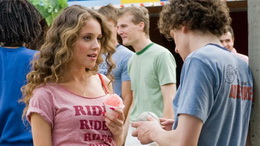 We'll be dressed like characters from the movie (I'm more of a "rides" guy myself), and we've hand-picked 13 of our favorite 80s tunes (and a couple from the 70s) from the 21 songs that were used in the movie.
And because this is a Scene-Stealers event, we wanna give you cool free stuff!
We will also have a DVD of the movie, some mini-posters, postcards, and CD soundtracks (which were made only as promo items and never sold in stores) to give away during the night.
Here is the Facebook event page.
It's going to be kind of an insane 80s tribute night since we'll also be playing with Daryl Hall & John Oates tribute act Haulin' Oats (which is coincidentally the punchline to one of my favorite Neil Hamburger jokes).
So break out those leg warmers and headbands (or just wear jeans and a flannel like I did then) and head down to the Replay Lounge on Halloween for ADVENTUREBAND, a one-night-only 80s rock extravaganza!