The AMPAS today announced its shortlist of documentaries. These are the only docs that will be considered by the Academy to even be nominated for an Oscar come January. The short-sighted eggheads  left the best documentary from two years ago, Werner Herzog's "Grizzly Man," off their list, and they've done it again this year.
"The King of Kong: A Fistful of Quarters" may not have the pedigree of a doc about war, politics, tragedy, social issues, etc. The fact of the matter is that it was more gripping than most of the fictional features I've seen this year. By leaving it off of their early list of films, the AMPAS is preventing anyone who wants to nominate this movie from doing so.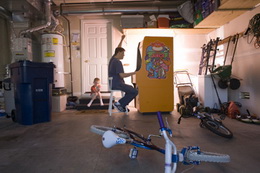 This category has gotten way better in recent years, with Michael Moore and Errol Morris finally getting some overdue attention for re-vitalizing the art form, but obviously it is still rooted in some kind of deeply-held backward tradition of what one thinks a documentary is. I like a good Ken Burn-ish slow-pan-over-archive-footage-with period-music-and-poetic-narration documentary as much as the next guy, but let's get over it. There's more than one way to approach non-fiction filmmaking. Boo. 
Moore is on there this year, of course, for the thought-provoking "Sicko," as is other high-profile releases like Tony Kaye's button-pushing abortion doc "Lake of Fire" and the highly-touted Iraq War doc "No End in Sight."
The Documentary Branch screening committee viewed all the eligible documentaries for the preliminary round of votings. Documentary Branch members will now select the five nominees from among the 15 titles on the shortlist. Here it is:
 
"Autism: The Musical"
"Body of War"
"For the Bible Tells Me So"
"Lake of Fire"
"Nanking"
"No End in Sight"
"Operation Homecoming: Writing the Wartime Experience"
"Please Vote for Me"
"The Price of Sugar"
"A Promise to the Dead: The Exile Journey of Ariel Dorfman"
"The Rape of Europa"
"Sicko"
"Taxi to the Dark Side"
"War/Dance"
"White Light/Black Rain"
Notable omissions include-
"The King of Kong"
"In the Shadow of the Moon"
"Crazy Love"
"Jimmy Carter: The Man From Plains"