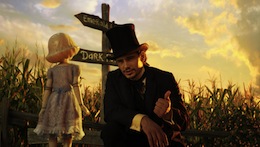 Alamo Drafthouse could not let the realease of Sam Raimi's new film, Oz the Great and Powerful go by without an appropriate level of fanfare. When in the Emerald City, food and frivolity are sure to follow.
It was in the freewheeling spirit of huckster Oscar Diggs that the exceptionally talented Drafthouse chefs created the Oz the Great and Powerful Dinner Party as a way to celebrate.
I have had the pleasure of attending another themed feast at the Alamo Drafthouse, and whether you are seeing a cult classic or a new release, the themed multicourse meals serve to accentuate the spirit of community and give each film a lot of additional excitement.
That and they food is pretty darn good.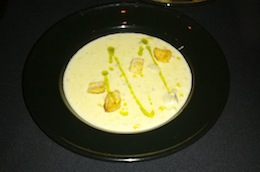 A huge amount of thought goes into each Food & Film event. For Oz the Great and Powerful, we were treated to a three-course meal that was themed to coincide with events in the film. Call it 4D exhibition or perhaps taste-o-vision™.
As the film opened we were served "There's No Place Like Home" – Nebraska Corn Chowder, Bacon Crouton, Basil Oil. Since the Wizard hailed from Omaha in the original Frank L. Baum story a nod is given to the Cornhusker State. This chowder would make a pretty great accompaniment to any movie's opening title sequence.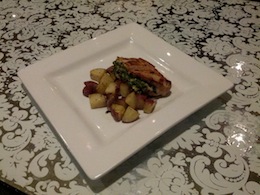 It wasn't long before James Franco was filling the screen with feats of prestidigitation, and so arrived our entrée, Oscar Diggs "Magical" Stuffed Pork Chop – 
A "Curtain" of Pork with a Magical stuffing of Mushrooms, Goat Cheese and Spinach, Roasted New Potatoes. For vegetarians, they offered not a curtain of pork but a portabella cap stuffed with the same rich deliciousness.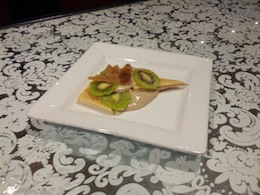 The final course came as our hero wandered into Chinatown. Dessert was based on one of Oz' newfound companions. "China Girl" – 
A Napoleon of Delicate Strawberry Cream and Slices of Fresh Kiwi between "shards" of Pastry and Broken Walnut Brittle was a light and delectable way to end the meal.
Alamo Drafthouse has a regular menu full of excellent offerings, but if ever get a chance to attend one of their signature food and film events, you really should. It is a great way to turn an evening out into a special event. It definitely made Oz all the merrier.
Check out Alamo Drafthouse's full calendar of up-coming events.