Nobody punches a snake like Jean-Claude Van Damme. That's just a fact. Witness:
One of the great things about having an Alamo Drafthouse in your town is that they do all kinds of screenings of movies that aren't your typical, awards-worthy fare, and they do them up right — with unbridled campy, enthusiasm.
Case in point:
ALAMO DRAFTHOUSE & ZZANGARANG!!! Present 
VAN DAMMAGE with THE EXPENDABLES 2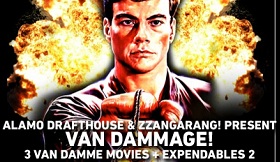 Alamo Drafthouse's ZZANG!!! series has teamed up with the BANGARANG! series to pay the ultimate tribute to all things awesome from the '80s and '90s.  Nothing seems better suited for our first ever ZZANGARANG!!! like a send-up to one of the greatest and most charismatic roundhousers to ever grace the silver screen.  With that we give you VAN DAMMAGE, a three movie marathon of our favorite VAN DAMME movies leading straight into a FREE ADVANCED SCREENING OF THE EXPENDABLES 2.  If that doesn't get your blood pumping and push your testosterone levels to brick-smashing levels, nothing will.
What movies can you hope to see?  We can't tell you.  If we were to release the line-up of excitement we have planned for you, you'd instantly find yourself with tufts of hair all over your body and your goosebumps would ripple into the manliest muscles you've ever seen.  But, rest assured we will have menu specials, surprises galore, and some of the Muscliest from Brusseliest action films of VAN DAMME'S career gracing The Alamo Drafthouse's silver screen.  Think you have what it takes to survive FOUR movies of nonstop white-knuckled mayhem?  This event is not for the weak at heart.  Pulses will pound, bones will be shattered, and roundhouses will be delivered in stylish slow-motion to ensure maximum VAN DAMMAGE!
8/13 UPDATE: The mystery line-up and special menu for Thursday's VAN DAMMAGE event at the Alamo Drafthouse Mainstreet have kicked, punched, and round-housed their way into the open.
The menu created for VAN DAMMAGE is action packed as well. Moviegoers can enjoy three special dishes that will put a stranglehold on even the largest appetite – KUMITE CHOP SUEY, a dish packed with meat, eggs, veggies and noodles. ANDREW SCOTT'S EAR NECKLACE, freshly fried pork rinds fit to be strung together and worn, or dipped in a spicy soldier dipping sauce. Finally, finish off your hunger with HARD TARGET BEIGNETS, a sweet and delicious New Orleans treat of fried dough finished with powdered sugar and served with chicory syrup.
5:00 PM – BLOODSPORT
6:45 PM – HARD TARGET
8:45 PM – UNIVERSAL SOLDIER
11:00 PM – EXPENDABLES 2
We will have someone there to cover the event because a marathon of this magnitude, quite simply has to be seen to be believed. The Kansas City Alamo Drafthouse Mainstreet is selling tix now, and this is just a preview of what you can expect from these guys because the theater hasn't really even had its official Grand Opening yet.
Brutal.