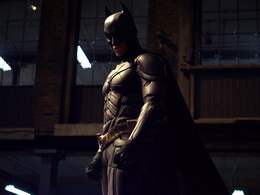 For a complete list of 2009 Academy Award nominees, click here.
The bias against superheroes and animated films continues, despite "The Dark Knight" and "Wall-E" reaping major awards this season. "The Dark Knight" was robbed of a Best Picture and Best Director nomination!! It was stolen by "The Reader," not even "Wall-E," which some people predicted (and would have been way more deserving). "The Dark Knight" got seven technical awards and one acting award, for Heath Ledger as Supporting Actor, who will no doubt win.
Sally Hawkins was left out for a Best Actress nom for "Happy-Go-Lucky," despite winning 11 critic's awards, the most of any actress in this category. Read a full list of every critic's award and awards show leading up to today here.
On the plus side, Melissa Leo was nominated in the Actress category for "Frozen River," a tiny little indie film, and Richard Jenkins got a Best Actress nomination for "The Visitor."
Clint Eastwood didn't get an Actor nod despite "Gran Torino'"s unexpectedly big box office, and the movie failed to get a screenplay nomination, which was expected. In fac, "Gran Torino" was completely snubbed, with a total of zero nominations.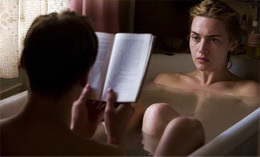 Kate Winslet scored for "The Reader," which she won a Golden Globe Supporting Actress award for, but for not Best Actress in "Revolutionary Road," which she also won at the Globes.
"The Reader" is a Weinstein film, and Harvey really knows how to campaign for this stuff. Despite mixed reviews,  "The Reader" received five nominations. Four of those were in the major categories. This is more than likely due to the weighted ballots that the Academy gives out. If lots of people put "The Reader" at number one, and more people put "The Dark Knight" at a lower spot on their ballot, "The Reader" gets in. That said, it has absolutely no chance of winning Best Picture or Director.
Dev Patel was left out of the Supporting Actor race, despite the 10 total nominations for "Slumdog Millionaire," but Michael Shannon's nomination for "Revolutionary Road" is a bit of a surprise.
It's too bad Rosmarie DeWitt didn't get noticed for Supporting Actress in "Rachel Getting Married."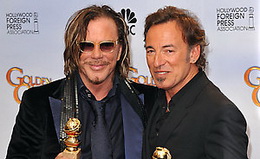 "In Bruges" and "Frozen River" surprise "The Wrestler," "The Visitor," and "Rachel Getting Married" by taking their predicted Original Screenplay nominations. Jenny Lumet's screenplay for "Rachel Getting Married" was tied for the most wins in this category in critic's awards, with Dustin Lance Black's "Milk," which is now by far the favorite to win.
Werner Herzog scored a Documentary nomination this year for "Encounters at the End of the World," despite his film "Grizzly Man" getting a surprise snub in 2006.
They snubbed The Boss! Bruce Springsteen, who already won the Golden Globe for best song for "The Wrestler," didn't even get an Oscar nomination this morning, while "Slumdog Millionaire" got two.
Now eight-time nominee and DP extraordinaire Roger Deakins got a nod for "The Reader," but the Academy missed out on his sumptuous work in "Revolutionary Road."
Total nominations for multiple-nominated films:
"The Curious Case of Benjamin Button" 13 nominations
"Slumdog Millionaire" 10 nominations
"The Dark Knight" 8 nominations
"Milk" 8 nominations
"Wall-E" 6 nominations
"Doubt" 5 nominations
"Frost/Nixon" 5 nominations
"The Reader" 5 nominations
"Changeling" 3 nominations
"Revolutionary Road" 3 nominations
"The Duchess" 2 nominations
"Frozen River" 2 nominations
"Iron Man" 2 nominations
"Wanted" 2 nominations
"The Wrestler" 2 nominations