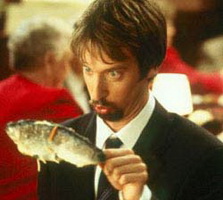 Since 1981, every day before the Oscar ceremony is held, the Golden Raspberry Awards are handed out. Not surprisingly, the winners themselves are usually not present to pick up their shameful plastic trophies. Notable exceptions: "Showgirls" director Paul Verhoeven, "Freddy Got Fingered" writer/star/director Tom Green (who accepted five awards for the movie, which I think is a brilliant, misunderstood piece of modern art), and Halle Berry, who won Worst Actress for "Catwoman."
Julian Sancton's Vanity Fair Little Gold Man blog says "Leave Sly alone," but I think his defense of 29-time nominee Sylvester Stallone (a Raspberry record) is misplaced. My cry? "Leave 'Speed Racer' alone!" Oh well, you've all heard that ad nauseum from me, so I'll stop now.
I think the Raspberry Awards are at their funniest when they reward stuff that was supposed to be good and really revolted people, like M. Night Shyamalan's "The Happening" and "The Day the Earth Stood Still." Some of these possible nominees are too easy a target: "High School Musical 3," "Postal," "The Hottie & the Nottie." Hell, I've never even heard of that last one. Although I will admit that those soul-killing, witless spoof movies from Jason Friedberg and Aaron Seltzer ("Meet the Spatans," "Disaster Movie") need to stop immediately. Satire without context or content is not satire at all, just a lot of really unfunny and outdated jokes.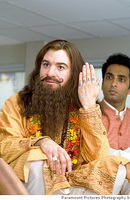 I'll make this prediction for the winner before the final nominees are even announced: Mike Myers' "The Love Guru." Bank on it. Anyway, here's the shortlist of possible nominees:
Worst Picture: Speed Racer, Disaster Movie and Meet the Spartans, The Day the Earth Stood Still, High School Musical 3, The Hottie & The Nottie, In the Name of the King: A Dungeon Siege Tale, The Love Guru, Postal, Rambo, The Happening, Meet Dave, Witless Protection
Worst Actor: Zac Efron, Dane Cook, Larry the Cable Guy, Eddie Murphy, Al Pacino, Keanu Reeves, Sylvester Stallone, Tom Cruise (Valkyrie), Will Ferrell, Ashton Kutcher, Mike Myers, Adam Sandler, Mark Wahlberg
Worst Actress: Paris Hilton, Jessica Alba, The cast of The Women, Camilla Belle, Cameron Diaz, Kate Hudson, Diane Keaton, Jennifer Connelly, Zooey Deschanel, Vanessa Hudgens, Eva Longoria-Parker, Reese Witherspoon
Worst Screen Couple: Any couple from HSM 3, Cameron Diaz & Ashton Kutcher, Paris Hilton & Joel David Moore, Kate Hudson & Dane Cook, Kate Hudson & Matthew McConaughey, Larry the Cable Guy & Jenny McCarthy, Any couple from Mamma Mia, Eddie Murphy & Eddie Murphy (Meet Dave), Al Pacino & His Hair, Mark Wahlberg & Zooey Deschanel, Mark Wahlberg & Mila Kunis, Sylvester Stallone & His Ego
Worst Director: Uwe Boll, Scott Derrickson, Jason Friedberg & Aaron Seltzer, Tom Putnam, Marco Schnabel, Sylvester Stallone, Jon Avnet, Diane English, Roland Emmerich, Brian Robbins, Kenny Ortega, M. Night Shyamalan
Worst Prequel, Sequel, Remake or Rip-Off: Indiana Jones and the Kingdom of the Crystal Skull, High School Musical 3: Senior Year, Rambo, Star Wars: The Clone Wars, Disaster Movie, Meet the Spartans, An American Carol, The Women, The Day the Earth Stood Still, Prom Night, Speed Racer, The X-Files: I Want To Believe
Worst Career Achievement: Uwe Boll, Jason Friedberg & Aaron Seltzer, Madonna, Keanu Reeves, Sylvester Stallone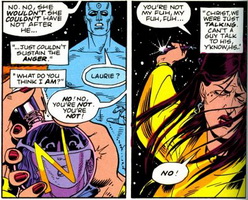 What is the name of the perfume that is advertised throughout the graphic novel "Watchmen" (not the one shown only at the end)? HINT: It's not Millenium.