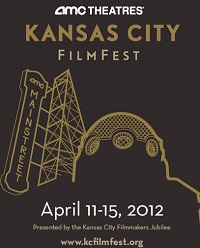 The 16th annual AMC Theatres Kansas City FilmFest starts on Wednesday and Scene-Stealers will be there to cover it!
From Wednesday April 11 through Sunday April 15, a wide variety of short films, documentaries, international films, and independent feature-length movies will screen at the AMC Mainstreet 6, the AMC Ward Parkway 14 and the Atkins Auditorium in the Nelson-Atkins Museum of Art. There are a bunch of different ticket-buying options for the festival, or you can just buy tickets for a particular movie on an individual basis.
In addition to the film screenings, there are plenty of film workshops and discussions covering subjects from screenwriting to distribution held throughout the weekend at Stage Port.
For a full schedule of events and screenings, go to the Kansas City FilmFest 2012 Event Page or download a PDF version of the Kansas City FilmFest Program.